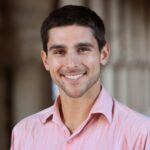 Andrew Wild is a research associate for the Tarrant Institute. He recently

 returned to Vermont after two years as a founding faculty member at the Woodrow Wilson Graduate School of Teaching and Learning, which is a new, competency-based graduate school for pre-service math and science teachers, in close collaboration with MIT. He and his colleagues took an innovative approach to building the institution, co-designing the curriculum and institutional structures with pre-service teachers.

 

Andrew is excited to learn from and work with Vermont educators in actualizing the ambitious vision of education in Vermont, and he views research as an important part of this work. Andrew is the co-author of the book

Arguing From Evidence in Middle School Science: 24 Activities for Productive Talk and Deeper Learning

, and has published research on teacher leadership and science teaching and learning.
On a more personal note, Andrew grew up in Wisconsin and looks forward to re-connecting with rural communities. He is passionate about addressing climate change and social injustices, within and beyond education. In his free time, he likes to cook, do yoga, meditate, read, enjoy live music, bike, ski, climb, and hike.