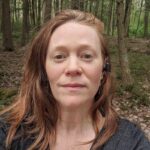 Emily Hoyler joined the Tarrant Institute for Innovative Education as a Professional Development Coordinator after nearly two decades working as an educator, including five years as a 6th grade teacher, and three years as the Curriculum Specialist at Shelburne Farms.
While at Shelburne Farms, Emily co-wrote Cultivating Joy & Wonder, an early childhood curriculum guide to educating for sustainability.
Emily's current interests include designing concept-based interdisciplinary curriculum, mindfulness in the classroom, and creating rejuvenating professional development experiences for fellow educators. Emily is a national certified facilitator for The Origins Program's Developmental Designs workshops, and served as a Visiting Lecturer in Education Studies at Middlebury College where she taught community-connected courses on elementary methods and Education for Sustainability.
Emily lives at the top of a mountain in Ripton, Vermont, with her husband and many Wild Things, including three children, three chickens, a dog, a cat, and various other untamed critters.
 Recent blogposts: