Dynamic Landscapes 2017: the power of authentic #vted student voice
Student keynotes, presentations, panels & partners
All with a side order of tech.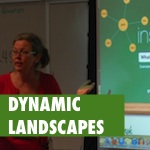 Dynamic Landscapes 2017 is in the bag, and it was easily the best one yet.
Why? Because not only were there a ton of great tech-rich, innovative sessions for attendees to choose from, this year also featured authentic student voice.
Student keynotes
In a dramatic departure from both previous years and virtually every other conference on the planet, Dynamic Landscapes 2017 kicked off both days with student keynotes. Not one, but two per morning, each one better than the last.
We heard from students at What's The Story, on some of the challenges facing Vermont's ELL population.
We met The Cornwall School's entire 6th grade class, who shared how they pursued — and obtained! — a new natural playground for their school.
We were blown away by Rutland High School senior Alisha Arshad's research into how, exactly, 3D printing can help push medical science forward. (Arshad will be studying biomedical engineering in the fall at Clarkson University — definitely one to watch!)
And Champlain Valley Union High School student Milo Cress convinced us of the power of 1:1 technology in schools by explaining how, when his school went 1:1 in 9th grade, it allowed him to embrace his passion for coding. Now he's writing encrypted neural networks.
Do you need a moment? I needed several and a paper bag to breathe into afterwards.
Student presentations
Students drove the conference by hosting a number of presentations with educators. A few of our faves?
Crossett Brook Middle School's presentation on pulling together Brainado:
Colchester Middle School students teaching how to use WeVideo collaboratively (and fixing attendee Chromebooks while they did so!):
Burlington High School students sharing how they designed the #allarewelcome logo and program, fighting hate in the community and fostering a welcoming atmosphere:
Compass School senior Nineh, who presented her senior project to the Compass community Tuesday night, then booked it up to Burlington with educator Julia Taylor to present on the senior project process the next morning. (Dedication!)
The Shelburne Community School students who brought educator Sam Nelson with them to talk about how student voice works in their social studies classroom and studies:
Rutland Town School students sharing their learner-centered science classroom:
Students from Lamoille Union Middle School sharing their PLPs, and how proficiencies intersect:
And so many more. A huge THANK YOU to those students! Plus:
Student instructors
As usual, the Dynamic Landscapes Innovation Lounge was poppin', filled with hands-on circuitry, pinball, robotics and gamification. But if you looked a little closer, many of the folks helping attendees circuit, pin, robot and game were students.
Student partners
This is huge, people. Bigly huge.
Students sharing what works in their classrooms, in their learning and in their lives should be the cornerstone of school change. And this conference gave them a platform of eager, passionate and dedicated educators who all showed up ready to listen.
Or as Cornwall School's 6th grade put it: