2020-2021 UVM Tarrant Institute Professional Learning Series
Join us for this series of free online workshops covering topics of immediate relevance to educators nationwide. Each month, we host webinars with in-classroom practitioners and scholars, on a variety of topics with immediate relevance for educators. Attendees should expect to participate in interactive reflection and tool-based activities at each event. Additionally, attendees will leave each webinar with a living document of curated and crowd-sourced resources for further study.
NEW COURSE:
Instructors: Emily Hoyler & Rachel Mark  |    Online registration   |    Syllabus    |    March 3 – March 31, 2021

3 synchronous, online class dates
1:1 coaching
2-3 hours per week asynchronous course work
15 recertification credits
This 5-week online course will immerse you in a personalized learning environment where you'll experience the routines and pedagogies of self-directed learning.
Learn about the misconceptions of student self-direction and identify the types of routines and systems that will work best for your own learners. Explore striking a balance between structure & order and choice & flexibility. Course instructors will coach you as you design and implement strategies for scaffolding self-direction. Then you'll have an opportunity to give and receive feedback on your implementation plan, and then put it into action.
By the end of this course, you will have developed an understanding of the components of self-direction and have experienced implementing concrete strategies with your students.
Questions? Contact courses@tarrantinstitute.org.
---
CURRENT WORKSHOPS
"Who's Outside? Building an Anti-Racist Bookshelf", with Jeanie Phillips & Aimee Arandia Østensen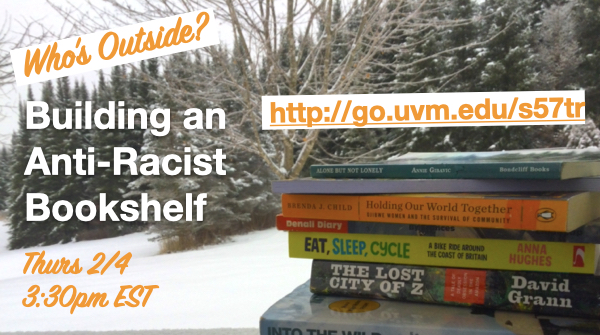 Thursday, February 4th @ 3:30pm EST, online via Zoom

Join the UVM Tarrant Institute's resident librarian Jeanie Phillips and Shelburne Farms place-based educator and professional learning facilitator Aimee Arandia Østensen as we explore how justice and equity show up (or don't) on our classroom bookshelves. We strive for a vision in which all children have meaningful connections to the natural world, but what does our book collection say about who is part of this vision and in what role?

Together we'll explore the intentional and unintentional messages about representation, stereotypes, and belonging that our bookshelves communicate. Leave with tools and strategies to audit your own bookshelves.
De-Colonizing Place-Based Education, with Judy Dow, Marie Vea, Aimee Arandia Østensen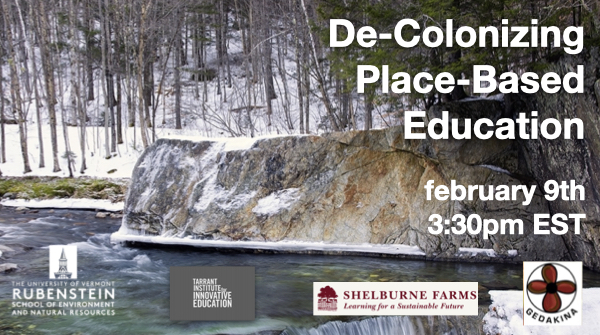 Tuesday, February 9th @ 3:30pm EST, online via Zoom

Engage with us to question and unsettle our notions of place, colonization, and identity together as we strive to decolonize our teaching practices.

How do we experience and perpetuate colonization in our classrooms?

What is the nature of our relationship to place as individuals and communities?

Together we'll tease apart, examine and reconstruct what place-based education is and can be. This 1.5 hour workshop is designed for K-12 educators with some familiarity with place-based education.

Your co-facilitators for this adventure into purpose and pathway will be Judy Dow of Gedakina, Marie Vea of the Rubenstein School of Environmental & Natural Resources at the University of Vermont, Emily Hoyler of the Tarrant Institute for Innovative Education and Aimee Arandia Østensen of Shelburne Farms.
---
PAST EVENTS
Playlists & Other Scaffolds for Supporting Independent Learners
Kyle Chadburn & Andrea Gratton
Resources & Slides | Recording
How to De-Colonize Your Thanksgiving Curriculum
How to Use Hyperdocs & Choice Boards for Remote Learning
Mike McRaith, Robin Bebo-Long, Jeanie Phillips, & Susan Hennessey
Resources & Slides | Recording
Assessment for Blended, Hybrid & Remote Learning
Susan Hennessey, Scott Thompson, Sarah Marcus, Chrissy Park & Allan Miller
Outdoor & Place-Based Education in the Now
Cliff DeMarais, Annie Bellerose, Bonna Wieler, Aimee Arandia Østensen, Emily Hoyler